We love ballooning, we've done our job from our passion. We're proud about what is recognized we can do in balloonong.
Catalonia Balloon Tour organization
Globus Kon-Tiki is the organizer of the Catalonia Balloon Tour, started 1st edition in 2015 in colaboration with Catalonia Tourism (Gencat) and Primagas. A unique ballooning adventure to discover Catalonia's attractions in five days full of adventure, gastronomy, sport and many sky. Facebook page del Catalonia Balloon Tour
European Balloon Festival organization
Globus Kon-Tiki, togheter with Ultramagic, provide thecnical organization of the European Balloon Festival, the biggest international balloon meeting in our country and one the best recognized in Europe. Cellebrationg every year in July since 1,997. More information about EBF
Balloon company recognized with the Tourism Quality Compromise Medal
This distinctive credits the fullfilment of the established requirements about methods, quality and continued in the most important tourism issues.
Excelence Certificate in Tripadvisor, as one of the best outdoor activities in Barcelona.
The best recognition to our service is the one from our guests. Since 2015 we are in the top postions among outdoor activities in Barcelona. Thanks for your confidence and also for your comments. Visit Globus Kon-Tiki in Tripadvisor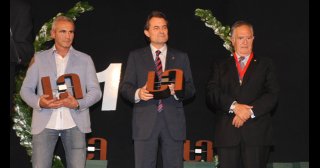 L'Àngel Aguirre, rep el premi TICAnoia a la implantació web de mans del M.H. President de la Generalitat Sr. Artur Mas
TICAnoia Prize for the implementation in the information and communication thecnologies
june/2011 - Globus Kon-Tiki, into the XIIth Anoia Trade Union cellebration, received the TICAnoia Prize for the imlementation of the TIC Tools for his project in e-comerce and online management in globuskontiki.com, as innovating thecnology sales process, ticketing, invoicing and booking management of the balloon tourist rides. More information